THE WINNERS - 2018 EDITION
UNESCO is pleased to announce the winners of the first edition of the Youth Eyes on the Silk Roads International Photo Contest, which was open from 11 April to 22 July 2018.
Winners - Category One: 14-17 Years Old 
First Prize for Category One
Tibetan Girl Wearing Wild Flowers
Zijie Gong
17 years old
China
"This photo was taken in the grasslands between Sichuan and Tibet. It has been one of the pathways of the historic Silk Roads. The beautiful Tibetan girl with wildflowers lives on a plateau between China's Sichuan Province and Tibet".
Second Prize for Category One
Memoirs of Love
Rishab Nandi

14 years old
India
"A couple record their love and togetherness at the Taj Mahal, which is regarded as the symbol of Love. The lovers in silhouette were appealing to me against the bright monument. My image is photographed against the backdrop of the Taj Mahal, which depicts Mughal architecture influenced by Islamic architecture trends and culture. My image also depicts love, which is the universal language that might have travelled along the Silk Roads with the trade and ideas".
Third Prize for Category One
Mbah Ripto, Playing a Gamelan
Michael Theodric 
16 years old
Indonesia
"Mbah Ripto, playing a gamelan (a traditional Indonesian music instrument) that he made himself. 'Gamelan' was founded in the 8th century in Borobudur Temple, which is a Buddhist temple. Buddhism was mainly spread along the Silk Roads."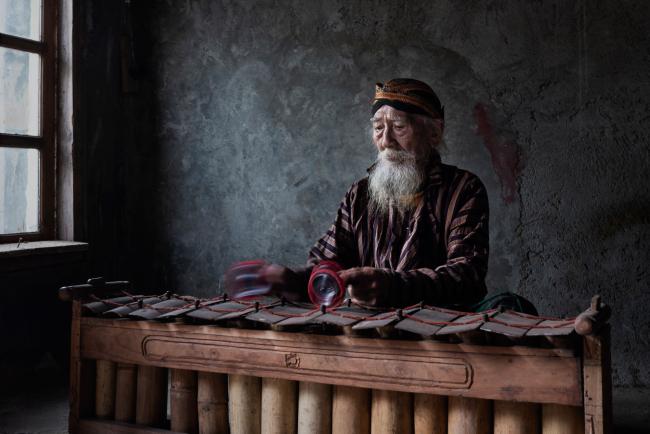 Winners - Category Two: 18-25 Years Old
First Prize for Category Two
Sunrise over Bagan
Pyae Phyo Thet Paing
25 years old
Myanmar
Historical Art of Bagan
"Bagan belongs to Myanmar's heritage in Asia. There are many old pagodas and cultural buildings. The land of Bagan is so beautiful. At sunrise and sunset, Bagan is such a peaceful time. It is definitely a treasure of Myanmar. My photo represents a common heritage of Silk Roads because of its link to the past."
Second Prize for Category Two
Gongfu on Hand
Xiaoyi Yan
22 years old
China
"Photographed in the old tea house in Peng, Chengdu, in the Sichuan province in China. Historically, Chinese tea was the main commodity of the Silk Road. In contemporary society, both the spiritual and cultural significance associated with tea and teahouses have been recognized by the world. Tea plays a major role in trade, while also helping to promote mutual understanding and respect between people".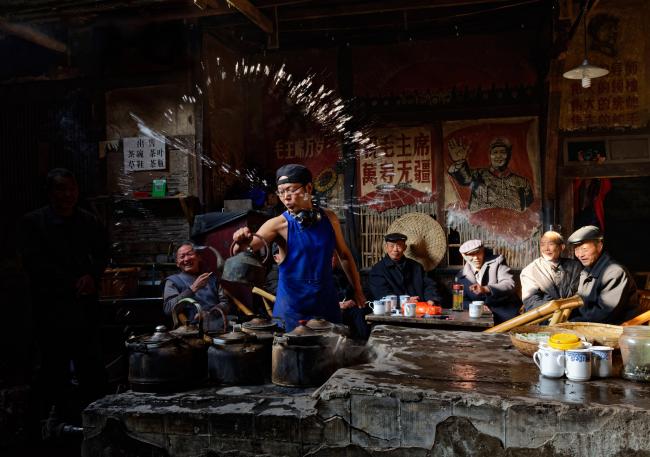 Third Prize for Category Two
Dream of the Return
Ahmed Gaber
21 years old
Egypt
"Respecting and showing affection towards elders is a value embedded in different cultures along the Silk Roads. An elderly lady is embraced by her son, Haja. Shama, 90, left Palestine in 1948 for Egypt with her family and settled at Fadel Island in Sharkya, Nile Delta. My photo represents the difference between the ease of travel in the past versus today. Previously, you could simply travel through countries via the Silk Roads. However, now it is more difficult. People are not as open-minded, and migration can be much more dangerous".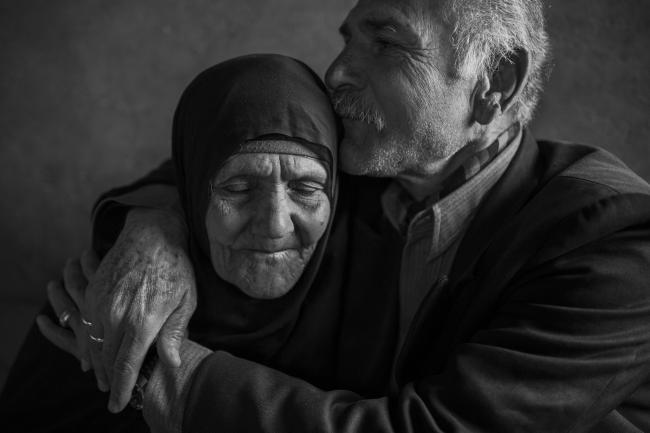 Honourable Mentions - Category One: 14-17 Years Old
Culture
Anushka Kesharwani
16 years old
India
"Culture opens the sense of beauty. Culture is the arts elevated to a set of beliefs."
Fun Bath
Fardin Oyan
16 years old
Bangladesh
"The picture shows the happiness of childhood. These children live in my neighbourhood, in Mymensingh, Bangladesh. They were playing and having fun while it was raining".
Honourable Mentions - Category Two: 18-25 Years Old
The School Way
Amanullah Sedaqat
25 years old
Afghanistan
"During the Taliban regime, schools were closed to students in most parts of Afghanistan. They opened up again after the interim government. In Daikundi province, after 14 years of Taliban rule, there were still basic schools and facilities available for existing students. This photo was taken in 2016."
Celestial Youth
Nasiba Nurmatova
25 years old
Kyrgyzstan
"Kyrgyz dancers on a traditional swing at the Teskei Jeek, South Shore, Issyk Kul Ethno Festival. Since ancient times, traditional dancing, which is a part of the Silk Road culture, has been passed down through generations."